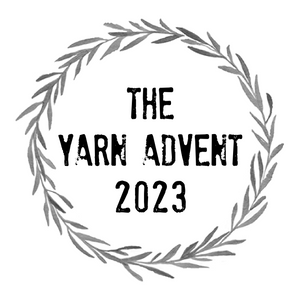 The Yarn Advent 2023
The Yarn Advent Calendar 2023 
This will be the 7th Yarn Advent Calendar I have created! Time Flies when you're having fun!
Every year the calendar includes brand new colourways and I have so much fun creating these for you. The yarns are housed in a custom made cardboard calendar with numbered perferated doors, the calendar itself is completley recyclable or reusable.
As in previous years I'm offering up a few different options ::
24 x 10g minis in SOCK or DK
OR
24 x 20g minis in SOCK or DK
Colourways will remain the same through all variations.
The calendars will contain 24 mini skeins in a whole range of colours and dyeing techniques so each day will be a surprise.
Yarn will be my standard base 75% superwash merino 25% nylon.
10g sock skeins equal 42m, 20g sock skeins equal 85m
10g DK skeins equal 22m, 20g DK skeins equal 45m

The advent calendars are priced as follows ::
10g minis = £65
20g minis = £100
Shipping costs are as follows
UK - £5
EU - £14
ROW - £22
Calendars will be shipped using a tracked service at the beginning of November.
You can get a taste of previous years boxes and the projects people have made with them by checking out the hashtag on instagram - https://www.instagram.com/explore/tags/theyarnadvent/